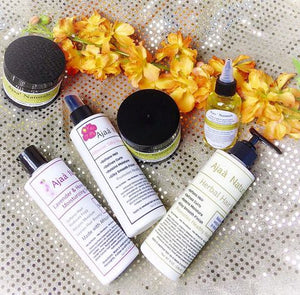 Apply Now to Become a Sales Consultant
SALES CONSULTANTS 
Are you a dedicated worker, passionate and like to have fun. Become a Sales Consultant with Ajaa` Naturals, increase your income and be your own boss. Set your own hours and you determine how much money you want to make.  As an Ajaa` Naturals Sales Consultant (ANSC), you will join us in the important role of educating everyone about their hair and skin, while empowering them to take control of the health of their hair. You will also play an important role in the discussion of the natural hair movement and the use of natural products for all hair types. Sign up today and join our winning team, you deserve it! ajaasalesconsultants@gmail.com Apply now  
Become your own Boss
Never carry inventory, we ship products directly to your customers
Host great parties
Annual meet ups with other Ajaa` Natural's Consultants
Create your own team and build a lucrative income
Earn Bonuses
4 EASY STEPS
Sign up to become a Consultant.
Utilize your social media platforms to reach out to family, friends, and colleauges to organize parties and to promote business. 
Host a party.
Submit orders to us and start earning income!
START UP COST
 $99 (Retail Value $199) Starts you at Bronze Level. Upgrade to automatically start at Silver Level (35%) for only $35.
Package includes:
Welcome Package
Personalized Business Cards
Sales Consultants Discount Code
Sales Coaching or Training
Ajaa' Naturals Product Samples
BRONZE LEVEL 
SALES VOLUME $0 - $500 (PURCHASE RATE 25%)
SILVER  LEVEL
SALES VOLUME - $500 - $1000 (PURCHASE RATE 35%)
GOLD LEVEL 
SALES VOLUME - $1000 - $3500 (PURCHASE RATE 45%)
PLATINUM LEVEL
SALES VOLUME - $3500 & UP (PURCHASE RATE 50%)
Buy Now
For additional info email us at ajaasalesconsultants@gmail.com or call us at 1-877-268-2439
---