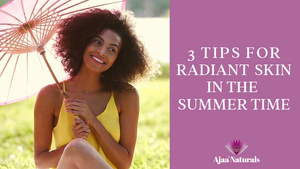 3 Tips for Radiant Skin in the Summer Time
From sunny sky's to beachy vibes, the Summer is always known as the season that is all about hot weather and relaxation. It's also a great time to revamp your skincare routine. As you're preparing to show a bit more skin, here are a few tips to ensure your skin is hydrated and prepared for the sun rays!
Exfoliate Your Skin
In need of healthy, radiant skin? Exfoliating your skin will have you covered! Not only does it remove dead skin cells but it also helps with its elasticity. This also allows radiant and smooth skin to shine through. Our Goddess Body Scrubs and Polish and Glow Facial Scrub both serve as great exfoliants, especially because of the all natural ingredients that are used to create them. Both are formulated with brown sugar, a great organic ingredient that gently gets rid of dry skin while sealing in moisture.
Incorporate Body Oils into Your Regimen
We're all about a healthy glow, and incorporating an oil into your skin care regimen will provide the exact sheen you may be looking for. One key to radiant skin is making sure that the moisture thats added is retained and sealed. Our Glamour Body Oil contains safflower oil, which has properties that help your skin maintain moisture and retain water. Not only will you have a luminous glow, but this oil is also clinically proven to improve skin dryness and roughness. 
Moisturize Your Skin Consistently
Moisture is the name, and hydrated skin is the game! Soft and dewy skin can be easily achieved by regularly moisturizing your skin. Moisturizers packed with key antioxidants and oils such as our Youthful Glow Face Moisturizer will assist in fighting dry skin and instead promote a glow. We recommend hydrating your skin in the morning and at night to ensure that your skin is penetrated consistently if you suffer from dry skin. 
We hope that this helps on your quest to radiant skin this summer! 
---