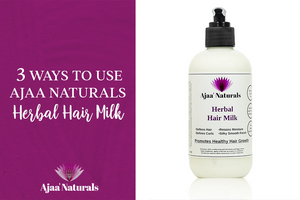 3 Ways to Use the Ajaa Naturals Herbal Hair Milk
Our Ultimate Moisture Collection was created to hydrate the hair while improving the condition of your strands. Within our collection you'll find a customer favorite and one of our best sellers, the Herbal Hair Milk. Not only does it focus on leaving your hair silky smooth, but it is also power packed with herbs and vitamins to grow your hair.

Wondering how exactly our Herbal Hair Milk can be used in your hair regimen? We've got you covered! Take a look below to find out 3 different ways it can seamlessly fit into your hair care routine. 
1. Can be Used as a Daily Moisture
Looking to keep your tresses hydrated? The Herbal Hair Milk will do just that. Its lightweight formula will never weigh down your hair but instead will provide the added moisture to ensure it isn't dry. It also contains Aloe Vera Juice which is known to prevent an itchy scalp as well.
2. Can be Used as a Leave-In Conditioner
Our Herbal Hair Milk is perfect as a Leave-In Conditioner. After washing your hair, we recommend applying it from root to tip, ensuring that the product coats your hair strands. The silk protein within the Herbal Hair Milk will soften and penetrate your hair which we recommend
sealing in
after doing so. Great for the LOC method!
3. Can be Used to Define your Curls/Style
Looking for a soft yet defined style? Incorporating the Herbal Hair Milk when styling your hair will give you the curl definition and shine that you need. Apply the Herbal Hair Milk before completing a twist or braid out and be sure to allow it to dry. When taking down the style you'll find your hair will be soft, moisturized, and defined for days!
Have you tried using our Herbal Hair Milk? Let us know how you use this product and be sure to use the hashtag #AjaasHairMilk on social media so we can see your results!
---