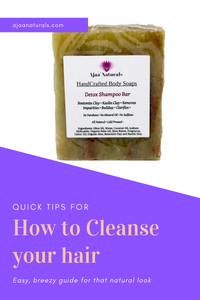 How to Cleanse Your Hair Using Our Detox Shampoo Bar
Every day we come into contact with numerous toxins and chemicals. Whether we're layering our hair with gobs of moisturizer and conditioners, or just taking a stroll outside, we come across millions of impurities daily. This reason is why it is necessary to detox not only your body but also your hair. Handcrafted with Bentonite and Kaolin clay, our Detox Shampoo Bar does just that! Use as needed to give your hair the fresh start it needs. Whether you're transitioning to the natural hair world, locking, or need to clean your scalp, you'll fall in love with our Detox Shampoo Bar.
How To Use:
Thoroughly wet hair with water. Section off hair and lather using a circular motion. Massage into hair and scalp, rinse. Follow up with our Honey and Sage Intense Deep Conditioner for best results.
Detoxifying Ingredients
Bentonite Clay
Sourced from volcano ash, bentonite clay acts as a magnet to pull build up and impurities from the hair and scalp. Bentonite clay will help to cleanse your scalp and give your wash day a fresh start. Not only does it provide a soothing, cleansing experience, it will also aid in curl definition.
Kaolin Clay
Kaolin clay acts as a gentle cleanser for the scalp and hair. It also aids in strengthening the hair by improving its elasticity and stimulates circulation to the scalp which promotes hair growth.
---