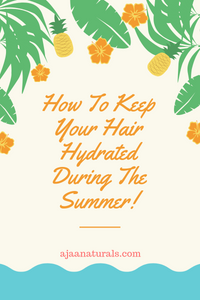 How To Keep Your Hair Hydrated During The Summer!
During the summer our hair is more susceptible to harsh conditions that can leave it feeling dry and brittle. It is important to maintain your hair during every season to allow it to flourish and grow! Read these tips to learn how you can keep your hair at it's best during the summer months 
Deep Condition Regularly!
Deep conditioning your hair every 1-2 weeks to allow your hair to be at its maximum potential. This will improve your hair's elasticity, add moisture, and define your curls. Try our Honey and Sage Intense Deep Conditioner for your next wash day routine. It will coat your hair and penetrate your curls for maximum definition. Our Deep conditioner also makes the perfect co-wash in between shampoos.
Moisturize Often!
Moisturizing your hair is the most effective way to keep it hydrated and nourished. Finding the right moisturizer can be made easy by learning your hair's porosity. Low porosity hair is much more difficult to moisturize and will require products rich in natural ingredients and vitamins for your hair. High porosity hair will absorb moisture much faster. If you have high porosity hair it is important to use lightweight products that won't weigh down your hair. Our intense moisture cream made with coconut and olive oil is the perfect daily moisturizer for your hair.  For lightweight moisture and definition, use our protein-packed herbal hair milk made with Aloe Vera. This moisturizer is a 3-in-1, leave-in conditioner, moisturizer and daily styler!
Use A Sealant to Protect Your Hair!
To keep in moisture and protect your hair it is important to use a sealant. Sealants are comprised of oils and natural butters. Oils give your hair an outer barrier of protection that will stop your hair from drying out. Hair butters help to soften the hair and can be used as an extra layer of protection after applying oil. We recommend using our Herbal Oil Hair Growth Stimulant to add lightweight protection from the season's harsh conditions. Our Nourishing Hair Butter can be used to provide hold and nourishment to your styles.
With these tips and tricks you'll be ready to enjoy the summer no matter the conditions! No matter what your hair needs, Ajaa' Naturals has something to fit everyone's hair
---