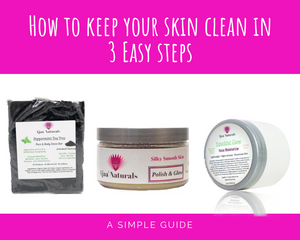 How to Keep Your Skin Clean in 3 Easy Steps
Whether you suffer from oily, dry, or combination skin our skin care collection is the perfect match for you!  


Step 1- Cleanse
Cleansing is a necessary part of any skincare routine. It is important to detox and clarifies your face from any impurities daily. Cleansing removes dirt, oil, bacteria, and harmful toxins from your face. This will refresh and renew your skin and give it a chance to thrive!
We recommend using our Tea Tree Detox Bar in your daily cleansing routine. Its primary ingredient is activated charcoal so it will unclog your pores and draw out impurities. The tea tree incorporated in this product will help alleviate any blemishes and rejuvenate the skin. Its anti-inflammatory properties will help calm the skin and reduce inflammation. Not to mention tea tree oil has amazing healing properties!
Step 2- Exfoliation
Exfoliating your skin is an important step of any skincare routine that is often missed by many! Exfoliating removes dead skin cells and allows the skin to more easily repair itself by getting rid of older layers of skin. Lack of exfoliation can lead to an excess of oil production on the surface, causing clogged pores. We recommend exfoliating 1-3 times a week for best results. Continued exfoliation will leave your skin glowing, young, and healthy.
We Recommend: Polish N' Glow Facial Scrub
Our Polish N' Glow Facial Scrub gently cleanses and removes excess dirt and oil from the face. It's made with raw brown sugar to help seal the moisture in your skin. It's also made with orange butter which is packed with Vitamin C and will give your skin a lovely, beautiful glow. You'll fall in love with our sensitive- skin friendly facial scrub.
Step 3- Moisturize
Hydrated skin is healthy skin! It is essential to moisturize your face daily. An excess of oily or dry skin can lead to acne breakouts and other facial problems. Moisturizing protects the skin and even helps to prevent wrinkles. It creates a barrier that protects your face from bacteria, excessive heat, and other harmful elements. Adding this step to your daily routine will also aid in brightening and evening out your skin tone eliminating a dry, dull appearance.
We Recommend: Youthful Glow Facial Moisturizer 
Our Youthful Glow Moisturizer is the perfect solution to hydrate your face. Its lightweight formula will leave your skin feeling soft, supple and glowing. You can also use it as a daily primer before make-up application. It's packed with powerful antioxidants to prevent and fight signs of aging, Suffer from oily skin? No need to worry, this product is formulated for all skin types including oily skin. 
---