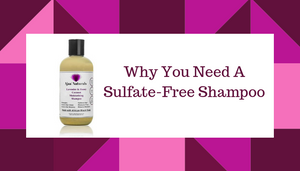 Why You Need A Sulfate Free Shampoo

We all love that squeaky, bubbly feeling of being clean. No one can deny the satisfying feeling of a nice, clean lather. Without even realizing it we have been indoctrinated into believing that bubbles equal cleanliness. While the satisfaction is undeniable many products that have this bubbly lather have sulfates in them.
Sulfates are known to irritate the scalp and skin and can strip your hair of its natural oils when used in the form of a shampoo. Washing your hair should be a cleansing process that sets the foundation for moisture for your hair care routine. Read these tips below to learn about how our Sulfate-Free, Lavender and Honey Coconut Moisturizing Shampoo will make your hair feel clean and moisturized.
Key Ingredients
Coconut Oil is the first ingredient of our Sulfate-free shampoo. This oil promotes hair growth and aides in a clean, dandruff- free scalp.
Avocado Oil penetrates the hair shaft and strengthens the hair. It is imperative to keep your hair strengthened to reduce breakage and help retain length!
Lavender Essential Oil stimulates hair growth and aids in eliminating a dry-itchy scalp. If you suffer from Alopecia or are having issues growing your hair, Lavender essential oil is an excellent choice for you!
How to Use
For best results, part hair into sections and rinse with water before shampoo. Section off the hair and apply a dime sized amount. Work through each section applying the shampoo and making sure to massage the scalp. Rinse hair with water and follow up with our Honey and Sage Intense Deep Conditioner.
---